Album: "Gig"
Band: Circle Jerks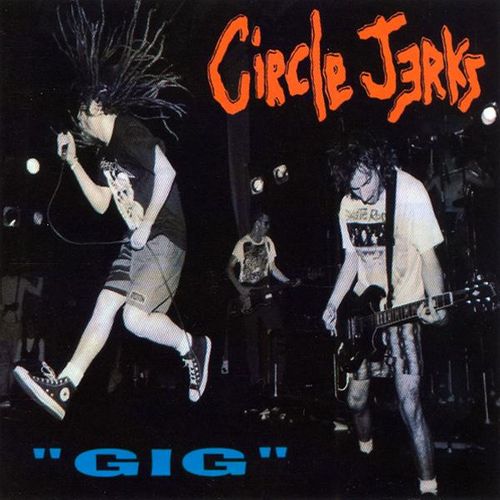 Genre: Hardcore Punk
Year of Release: 1992
Duration: 42:42
Label: Porterhouse Records
Rating: 7.0/10
I've never exactly been a huge fan of live albums, but
"Gig"
from the Circle Jerks is actually pretty okay. The songs don't sound too different from the studio recordings, just a tad bit sloppier. The production is alright. The setlist includes most of the CJ's best songs. The album cover and layout are a little bland (The band's logo is a little bit shrunken), but it is out of print, so it makes something about the album seem special. If you want to know what the Circle Jerks are all about, then this is a good album to check out, because it has a very good tone on it. The Circle Jerks aren't a dark angry and disturbing band, like fellow L.A. hardcore band band Black Flag, and they aren't super intelligent and artistic like The Germs or X. The thing that makes The Circle Jerks who they are is humor and sarcasm. That is very apparent on this album, as Keith Morris adds some words to some songs, such as "Mrs. Jones". His commentary before and after songs is also rather amusing, such as at the end of "Wild in the Streets". I do enjoy the length of the album, as many of the band's studio albums are very short, usually under 30 minutes. I don't really have much to say about this album as far as how good it is. Its nothing spectacular or groundbreaking, but if you're a hardcore Circle Jerks fan or you just want a compilation with the best songs from the band, then
"Gig"
is for you.
Strongest Tracks: "World up My Ass", "Beverly Hills", "Wild in the Streets", "Beat Me Senseless", "Mrs. Jones", "Coup D'etat", "In Your Eyes", "Deny Everything"
Weakest Tracks: "Letter Bomb", "I Don't", "High Price on our heads"